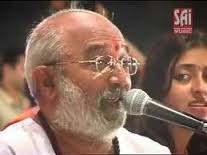 Atul Purohit – Fascinating audiences with his golden voice
If you are a Dandiya – Garba fan and have an ear for religious and devotional music, you must surely have heard of Atul Purohit. Purohit is certainly a big name in the world of Gujarati folk music. He is infact called the "King of Garba" and is a big hit amongst devotees especially for his Sunderkand katha and sacred rendering of devotional songs. For decades, Purohit has mesmerized his listeners with religious numbers like "Tara Vina Shyam" & "Vhalamni Vaat Kai".
Born in a small village near Dabhoi in Vadodara district of Gujarat in February 27, 1957, Atul Purohit has now made his mark not only in India but across the world. He seemed to have been born with a divine vocal cord & music running in his veins right from childhood. Purohit started training from a very tender age and he got his first harmonium when he was barely 10. As he grew older his family realized he was born to sing and encouraged him. Atul Purohit took up dramatics as he moved to college.
However, getting a formal training in music and dramatics was just a start. It was a long journey from anonymity to stardom but Purohit had the talent, willpower, dedication and immense love for music that made his struggle memorable. To start with, Atul Purohit began performing on the streets with local singers completely free of cost. Slowly audiences started enjoying his Bhajans, Sugam sangeet, Graba songs, classical, sufi and folk songs.
Later in the year 1985, Atul Purohit formed a group along with five buddies. Purohit rose to fame in the world of music with his album "Tara Vina Shyam" and since then there has been no looking back. He then went on to form his own troop in the name of Rutambara Group. Rutambara group is a household name in Gujarat and is a special attraction every year at the United Way of Vadodara for its extraordinary Navratri performances and traditional Garba and Dandiya shows.
The magical voice of Purohit and the his team's performance creates a totally charismatic atmosphere. Atul Purohit has toured the entire globe and would be visiting Australia for the 9th time now. Come and celebrate Navratri with Garba and Dandiya this September in Sydney, Perth, Melbourne and Brisbane.
Tickets for the events available online at www.premiertickets.com.au