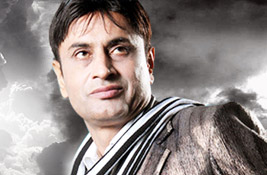 Debi Makhsoopuri is a well known Punjabi Singer, poet and lyricist. Debi was born in a small village Makhsoopur in Hoshiarpur Distrct of Punjab, India on Jume 10, 1966.
Debi started his career at the young age of 20 when he wrote song lyrics for the famous Punjabi Singer Kuldeep Manak. He later penned down many popular songs for Manmohan Waris and Kamal Heer.
Debi turned into a singer with the album Jag Maa Nayi Rehndi in 1994. Debi lives in Canada with his wife and 3 daughters. He performs in live shows under the name "Debi Live" all across the world.
Popular videos:
Popular/Live Albums
Albums
Jad Maa Nahin Rehandi
Sadi Gali Langhde Raho
Lare Tere Nahin Mukkne
Mittran Kol
Ankhiyan
Balle Ni Balle
Yarane
Mukkhre Da Lishkara
Sone Da Taveet
Mehboob
Tere Naal Pyar
Sikhi Naal Ishq
Ishq Di Mehendi
Meherbaani
Yadaan
Singh Vaaleh Gobind
Debi Live
Debi Live 2
Debi Live 3
Debi Live 4
Debi Live 5
Coming Soon: Premier Tickets gives you the chance to meet the energetic singer –poet live over cocktail and dinner.
Social Media
Connect with your favourite singer on Facebook and Twitter!
Facebook Page – https://www.facebook.com/makhsoospuridebi
Twitter page- https://twitter.com/DMakhsoospuri