Tarang – Season Tickets
03:00 PM, Sat, 17th March 2018
UNSW Science Theatre BUILDING NO F13, BARKER STREET, KINGSFORD 2032 NSW Australia
03:00 PM, Sun, 18th March 2018
Event Tickets:
When – Saturday 17th March to Sunday 18th March 2018
Where – UNSW Science Theater
Timings - 3:00 PM Onwards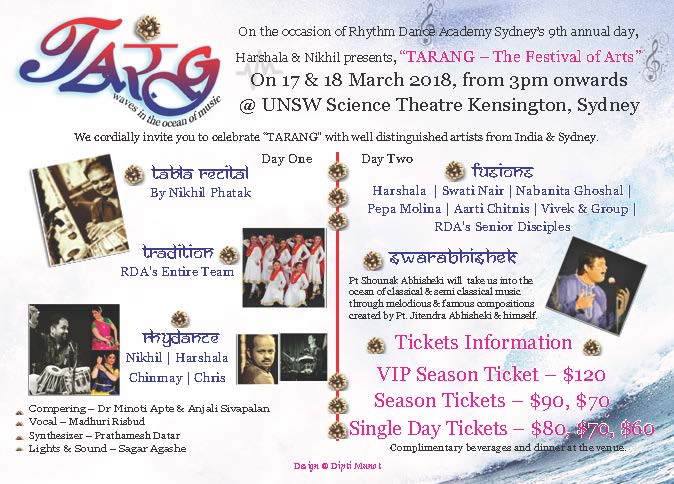 Instructions:
VIP season ticket holders will get entry for Meet and Greet Dinner with overseas artists on 19th March. *RSVP'S MUST max by 15th March*
A request to all season ticket holders : Please provide the names of each ticket holder on harshudance@gmail.com as we will announce 2 lucky draw winners on 18th March worth winning prize of $ 100 each.
Please print your ticket/s and present them on arrival as a proof of purchase with valid photo ID.
Tickets are non refundable and non transferable. 
Gates open at 2.30 pm for 3 pm start.
Complimentary beverages and dinner included in the ticket. 
Food coupons will be provided only as per number of tickets booked.
About Event:
On the occasion of RHYTHM DANCE ACADEMY SYDNEY'S 9th annual day, experience various Art, Music and Dance forms with 3 well renowned OVERSEAS ARTISTS, 15 Sydney based artists and RDA'S whole bunch of students in 2 days festival "TARANG".
Event Disclaimer:
Premier Tickets is an online event marketing and ticketing agency. Premier Tickets will NOT be responsible for any changes related to the event schedule, artist, venue or cancellation and refunds related to the tickets for TARANG.
Event Organiser has all the rights to alter and/or modify and/or add seating arrangements based on the demand and availability of the space.
In case of any misbehavior/misconduct by any person at the venue, Event Organiser has all the rights to evict that person from the auditorium and no refund will be given.
Ticket availability and prices declared/quoted are subject to the change at the discretion of the event organiser without any notice.
About Premier Tickets:
Premier Tickets Australia is proud to be the online ticketing partner for Tarang on 17th March & 18th March 2018 @ UNSW Science Theater.
Premier Tickets is Australia's leading online event ticketing & marketing solution provider. We act as a channel between the event organizers and end customers helping our clients with hassle free event ticket booking, event marketing & promotion solutions.