Yoga Convention 2019 – Melbourne
07:00 AM, Sun, 01st December 2019
Westgate Indoor Sports Cnr Grieve Pde And Dohertys Rd, Altona North 3025 VIC Australia
ADULT - Saturday Pass

$55.00
ADULT - Sunday Pass

$65.00
ADULT – 2 Day Pass

$99.00
VIP - Saturday Pass

$109.00
VIP - Sunday Pass

$109.00
FAMILY - 2 Day Pass

(2 Adult & 2 Kids under 18)

$219.00
Share
 Learn Yoga with world famous Swami Ramdev Ji
Event Details
When – 30th November & 1st December 2019
Where – Westgate Indoor Sports, Cnr Grieve Pde And Dohertys Rd, Altona North, VIC 3025
Timings - 07:00 AM to 05:00 PM BOTH DAYS
Onsite Childcare @ $5 per child from 10 AM to 4 PM.
About Event
Our main purpose and focus for the event is to create awareness and promote health, prosperity and peace. Yoga is a perfect exercise for health, well-being, and making a lifestyle choice. Yoga is for Physical, mental and spiritual health. All that topics will include Ayurved and Ashtang Yog.
We hope this event will give everyone the opportunity to practice yoga and learn how to focus and create harmony and peace in our lives.
Premier Tickets is proud to be the online ticketing partner for Baba Ramdev's Yoga Convention 2019. Swami Ramdev will be imparting Yoga sessions to live audience in Melbourne at the Westgate Indoor Sports.
Come, experience the magic and rejuvenate yourself with Yoga!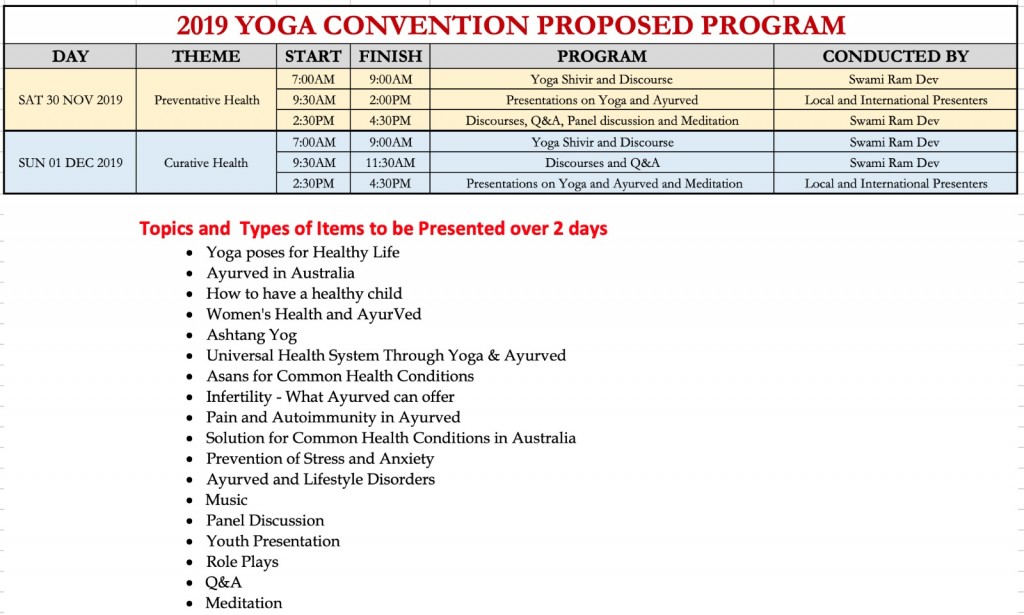 Typical Session Includes
YOGA
An Introduction to Yoga
Breathing exercises
Warm up exercises
Yoga movements, postures & stretches
Relaxation exercises
Baba Ramdev's Yoga consists of a set of various breathing exercises (PRANAYAMA) along with a set of simple yoga postures (ASANAS) that can help practitioners achieve healthy body as well as controlling diverse ailments in the body.
Pranayamas are a collection of breathing exercises that concentrate on increasing oxygen level in the blood and improving oxygen flow to all body parts. This in turn positively impacts the overall health of the individual.
Pranayama includes the following:
Kapalbhati Pranayama: Cleansing Breathing
AnulomVilom Pranayama: Alternate Nostril Breathing
Udgeeth Pranayama: Chanting Breath
Bahya Pranayama: External Breath
Bhramari Pranayama: Bee Breath
Bhastrika Pranayama: Bellow's Breath
All these when practiced regularly are known to improve overall health of an individual. Baba Ramdev's Pranayama exercises are very simple to perform and each of these require barely 8- 10 minutes.
MEDITATION
Baba Ramdev's Meditation or Dhyan Yog helps you connect to your core. We humans are never at peace with ourselves in this fast-paced world and our reckless lifestyle is causing immense harm to our health.
Swami Ramdev-ji explains various meditation techniques and explains ways to lead our life in a way that offers complete peace & relaxation.
GENERAL WELL BEING
Baba Ramdev also imparts lecture on good eating and sleeping habits, weight loss and control, prevention and control of various chronic life style diseases as blood pressure, diabetes , thyroid and more.
RULES FOR PARTICIPATION IN THE WORKSHOPS
Suitable clothing is advised; Women are advised to wear white/yellow/pink salwar-kameez or gym wear and Men are requested to wear kurta pyjamas or loose gym wear/jogging wear.
Bring own Yoga mats and seating cushions
All participants will be required to display passes to gain entry into the workshops.
Children under the age of 10 are allowed under parental guidance and supervision and at the parents' own risk and responsibility.
Participants are advised to come in the morning after completing the morning ablutions and on an empty stomach for maximum results.
Event Highlights
FREE MEAL
Kids Under 10 years FREE ENTRY
Complete Family Event
Free Parking available on site
Wheel-chair and elderly/pregnant friendly access
Food Stalls will be available for purchase
Ayurveda which will be covered in ethnic event.
Program will delivered in English with English translation where necessary
Event Terms and Conditions
Please bring the print out of ticket confirmation with you.

Bring own Yoga mats and seating cushions

Tickets are non-refundable

Mobile Phones to be left on silent mode
Alcohol & Smoke-Free event
Entry to the event is reserved as per Promoters' Discretion

Timings /dates/venue of the show are subject to change as per promoters discretion due to any unforeseen circumstances
Event Disclaimer
The Organizers & Instructors ('O&l') which expression shall include all related entities, employees. agents, affiliates, volunteers associated with them expressly state that in general Yoga is safe and beneficial but like any other health program it needs to be practiced judiciously, correctly and cautiously. No citing by O&l at the Yoga Workshop to any health-related/medical/other information is intended to be a substitute for professional judgment of a qualified health-care provider. The O&l are not subject or liable to change the structure of the Yoga Workshop to suit individual needs.
Not all presentations at the Yoga Workshop may be suitable for everyone. If pain is experienced anytime during the practice of Yoga, it should be stopped immediately and a qualified health care professional should be consulted. The 0&I assume no responsibility and will not be liable for any harm, injury or damage resulting from any tort, negligence or from a breach of an express or implied warranty however caused or occurring during or after participation in the Yoga Workshop or while practicing anything presented therein.
By participating in the Yoga Workshop the participant, for himself/herself, his/her heirs, and assigns, hereby expressly assumes all risks, full responsibility and liability for participating and practicing anything presented therein and forever waives and releases and agrees to defend, indemnify and hold the O&l harmless from and against any and all claims or demands, liabilities and settlements (including without limitation, legal and accounting fees) on or against the O&l for losses or damages, including, without limitation, direct, indirect, incidental, consequential or special damages, personal injury/wrongful death, resulting from or alleged to result from participating in or practicing anything that is presented in the Yoga Workshop. The 0&l, at their sole own discretion reserve the right to deny participation at any time of the Yoga Workshop to any entity without assigning any reason whatsoever.