Nritya School of Indian Dances proudly presents "AMEYA"
06:00 PM, Sat, 04th May 2019
Hillcrest Christian College Theatre, 500 Soldiers Road, Clyde North 3978 VIC Australia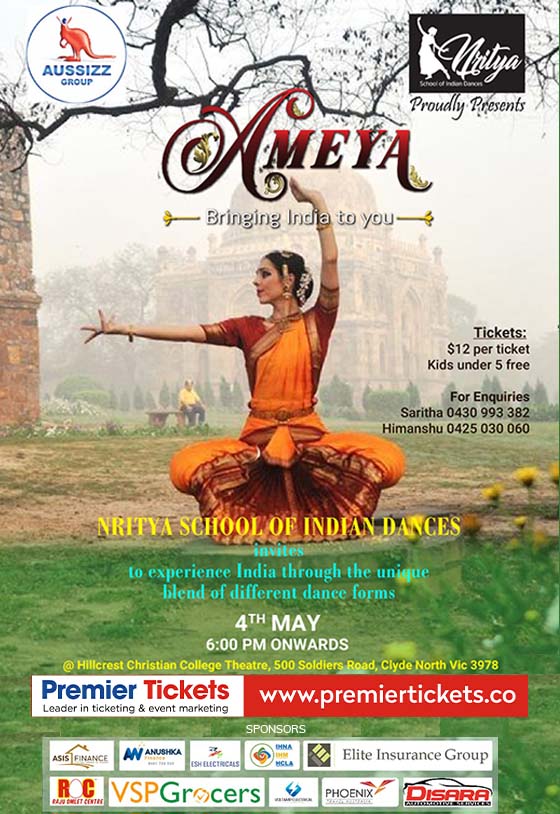 Event Details:
When – Saturday 04th May 2019
Timings – 6:00 PM
Where – Hillcrest Christian College Theater, 500 Soldiers Road, Clyde North VIC 3978
DOORS OPEN AT 5:30 PM
About Event:
Experience a mesmerizing evening of dance, intriguing choreography, vibrant music and energetic music – all packed into one show.
We invite you to experience India through a unique blend of different dance forms.
Auditorium  Terms and Conditions:
Kids under 5 are free (No Seat allocated)
No food or drinks allowed inside the auditorium.
Each ticket holder must carry ID proof along with the printed copy of ticket.
Free car park entry is available
Tickets are non-refundable 
No prams or baby capsules are allowed in the theater. Walker will bestowed by the front of house staff during the performance in order to keep aisles clear.
The wheelchair space ticket is issued only when required. For any wheelchair booking, please contact Saritha on 0430 993 382
Event Disclaimer:
Premier Tickets is an online event marketing and ticketing agency. Premier Tickets will NOT be responsible for any changes related to the event schedule, artist, venue or cancellation and refunds related to the tickets for the event.
Organizers reserves the right to update the Disclaimer and Terms and Conditions without prior notice.
For any reason outside the control of Organizers, if the event is cancelled, Organizers won't be held responsible from and against any and all costs, damages, fines and expenses incurred in the process of attending the event.
Event Organizer has all the rights to alter and/or modify and/or add seating arrangements based on the demand and availability of the space.
In case of any misbehavior/misconduct by any person at the venue, Event Organizer has all the rights to evict that person from the auditorium and no refund will be given.
Ticket availability and prices declared/quoted are subject to the change at the discretion of the event organizer without any notice.